Character Information

Poe the Meek

Age

Body of a 12 year old.

Gender

Male

Species

Hedgehog

SS Debut

LEAVE BLANK WILL FILL IN

Comic Debut

ENTER DEBUT COMIC / EPISODE HERE IF APPLIABLE
Originally the depressive and quiet only step-son of the abusive Sei, Poe was quickly drawn into circumstances beyond his control and beyond the mortal lifestyle when his deep despair awoke the attentions of Asura. The albino Echidna promised adoption and betterment of his situation for aid in the death of Sei, and Poe quickly complied. Since then, he has lived the ideal life with the God of Despair as his father, attended to by 5 seperate mothers, although he has recently been subject to the increasing corruptions of a mortal body surrounded by the emanations of a god.
Basic Stats
Edit
Nicknames/Aliases: Poesie, Dearheart
Alignment: Lawful Neutral
Birthday: March 13
Type: ISFP
IQ: 115 (Quickly rising)
Blood Type: Previously an A-, he currently has some sort of unidentifiable black blood, determined AC-, 8% Chaotic
Height: 3'0"
Weight: ENTER
Build: Very thin, underfed
Residence: ENTER
Occupation: ENTER
Marital Status: Unmarried
Hobbies/Talents: Drawing/sketching, people watching
Themesongs: I'll Stay Here - Balthazar
Personality
Edit
ENTER HERE. SHOULD BE 1-2 PARAGRAPHS LONG. SHOULD REFLECT A THOROUGH UNDERSTANDING OF THE CHARACTER PLAYING.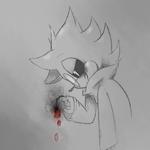 Curious and inquisitive, but painfully shy. Tends not to trust very easily, especially when it comes to his father. Instinctual trust for only one person, his new Papa. Innocent, but inherently corrupt as time passes. Loves beauty, but finds things more beautiful when they are dead and decayed. Forms friendships easily with his peer group. Soft child. Weak will. Has little to no memory of his time on the planet. Enjoys spending time with his father. Sexual tendencies beginning to manifest. Doesn't like to sleep. Typical child action toward new things. Tolerant and accepting of the friends his father provides. A little greedy when it comes to pleasures and powers, as he hasn't been accustomed to having them, or having any sort of restraint. Young vocabulary, but clearly intelligent. Bookish sort. Probably corrupted from interaction with Asura. Doesn't seem to notice this is the case. Developing 'slendersickness' as well as signs of scurnag blood itself.
Attributes
Edit
Voice: Soft and almost non-existent.
Balance: He has fair balance. It was aided by his corruption manifesting as tendril tentacles.
Posture: Slouched
Stamina: Poe himself has low stamina and tires easily.
Hearing: Sharp and acute
Climbing: ENTER
Speed: ENTER
Strength: ENTER
Swimming: Probably swims like a fish, thanks to Lovecraft.
Computers: Has probably never encountered one.
Driving: Will never need to do so.
Appearance
Edit
Fur/Scale/Feather Colour: Albino
Skin Colour (ie Muzzle/Arms/Beak): A pale peach
Eye Colour: Dark grey
Hair/Quill/Feather Style: His spines are sectioned out into smaller gatherings, more similar to Echidna quills, and these all have been gently pushed vertically, to give him a blossoming or crowned look.
Nose: Small hedgehog nose
Ears: Pointed, with at least 5 piercings
Tail: Small and thin
Other Bodily Features: ENTER
Any Piercings/Tattoos/Scars/Birthmarks?: He has piercings in both ears, and suffered a good amount of scarring from Sei, before Asura healed him. The corruption of Asura's presence and being a mortal in a godly realm, surrounded by strange energies and eating foods never intended for mortals has made a mark on him as much physical as structural, and some of this corruption is beginning to be visible.
Attire: He typically wears a large, cowled sweater, probably originally intended to be a turtleneck, and usually has a long hem and long sleeves. Occasionally, he will be found with an armband with a simple red marking on it - however, he has recently taken to wearing all black, to match his corrupting presence. The more time he spends with Asura, the more of his style he will probably take on. Poe also needs a thick-lensed perscription for his eyes - adorable little rounded glasses that he has to wear constantly or really be blind. Without them, he can see the purity of someone's pelt and soul, and this was how he helped Asura select his 'mothers'.
Items/Weapons: Nothing more than some crayons, thread and a needle, and his journal.
Transportation: He doesn't need to go anywhere, but if he did, he can usually walk or ask Asura to take him where he needs to go.
Affiliations/Relations
Edit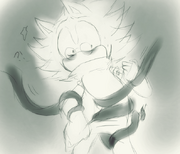 Sei (allegedly deceased) - Poe's abusive step-father.
Kachi - Fellow penpal, and considers his little brother
Lovecraft - The only kid his age in the Fourth Circle
Rivals/Enemies
Edit
Kachi - Something of an aggrievance has emerged due to unnatural acts against the little hybrid with certain tentacles.
Lovecraft - Another aggrievance due to the theft of some of his life force and the pollution of his blood with the corruption.
Cthura - As the progenitor of Lovecraft, a good deal more pissed at Poe for doing this to his son.
AN0N - Considering he sort of raped this dude...
Sei - The two have mutual enmity.
INSERT YOUR CHARACTER HISTORY HERE. THERE IS NO LIMIT ON HOW LONG OR SHORT YOUR HISTORY SHOULD BE.
PLEASE DO NOT COPY FROM WIKIPEDIA OR ANOTHER WIKIA. ITS BETTER TO LEAVE IT BLANK THEN COPY FROM SOMEONE ELSE.
INCLUDE THE CHARACTER'S ORIGIN AND ANY PRE-HISTORY BEFORE THE RP. MORE CAN BE ADDED LATER TO REFLECT THE ONGOING EVENTS IN THE RP.
Threads that Poe was Mentioned in
Edit
LEAVE THIS BLANK. I WILL FILL IT OUT FOR YOU.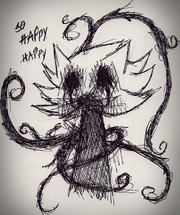 External Information
Edit
Poe-theSmall - His 'Book', used for Diary Entries and Artwork
Poe has lately manifested a strange and disturbing ability, currently only working on the little mortals. A single touch allows him to take their life force, though only a minute portion of it, and his presence infects them with the same strange particulate in his blood stream, in enough quantity that it pours out their tear ducts. Whether this particulate is harmful has yet to be determined, though it appears to have sedative properties, and remains in the blood stream for at least 6 months after initial contact.