Character Information

Jack

Age

Older than she looks...

Gender

Female

Species

Raccoon

Comic Debut

PA #1

Player

Job

Writer, Artist, Letterer
ENTER A SHORT DESCRIPTION OF CHARACTER HERE. NO MORE THEN FIVE SENTENCES.
Basic Stats
Edit
Nicknames/Aliases: Jaquelin Debonet, Jaq-Ki, Jackie, Unlucky Charm, 13, 666 (>>)
Alignment: Lawful Neutral, a recovering Lawful Evil
Type: ENTER
IQ: ENTER
Blood Type: ENTER
Height: 3'6"
Weight: ENTER
Build: Short and compact, but almost dense - not considered fat, but not reedy... almost warriorlike, were it not for no (visible) muscle masses of any great worth
Residence: ENTER
Occupation: Comic book artist and med student
Marital Status: Single, just went through a complicated break-up a few years back
Likes: Classic Horror/Thriller (a la Hammer), cemetaries, winter, writing, drawing, reading
Dislikes: Modern Horror/Splatterporn/whatever it's called, chatty people
Fears: .... >3 Ahh, well, spiders make the list
Hobbies/Talents: Jackie seems able to whip a screwdriver or a wooden stake out of what is affectionately referred to as "Hammer-Space". She also has natural ability both in paranormal hunting and in robotics, and can recite ad nauseum on the subject of banshees and other paranormal critters.
Themesongs: ArcadePunk by Klippa
Clutter by Ronald Jenkees
Personality
Edit
ENTER HERE. SHOULD BE 1-2 PARAGRAPHS LONG. SHOULD REFLECT A THOROUGH UNDERSTANDING OF THE CHARACTER PLAYING.
Jack is often mistaken for someone half her age, reinforced by her short stature, high voice, and tendency to like cutesy things like kittens, lollipops, and cartoon t-shirts. As she also prefers baggy clothing, it makes her look only smaller than she is. While she hates to be the 'child' of the group, she has in the past used this to her advantage, in making her way out of deadly positions against people who wouldn't hurt a child, but would most certainly kill an adult, and in less serious measures, to get discounts on movie tickets and activities.
Attributes
Edit
Voice: Deeper in person than over the internet, nevertheless, Jackie has a childlike quality to her voice, as with everything else. The angrier she gets, the more growlly, deeper, and sinister her voice becomes.
Balance: Jack is extraordinarily clumsy.
Posture: Her posture is unusually ramrod straight. She carries herself like there's going to be a shootout at any moment. In fact, if one sees her slouching, there has to be something horribly wrong
Stamina: Jack has poor stamina. She was never really a person designed for the battlefield, or even for rigorous courses.
Hearing: One of her most sensitive of the traditional 5 senses... Anything louder than regular conversation is likely to give her a headache and turn her into a growling nightmare liable to hurt anyone, if she doesn't trip up before...
Climbing: Jack is physically weak, and probably wouldn't be able to do so well in real-life climbing conditions. However, she has a great deal of fun on the rock-climbing courses nearby.
Speed: A previously very quick runner, according to Jack's claims, her speed has somewhat... decreased. Short term bursts of running or reflexes are usually fine, but anything longterm, and she's a mess.
Strength: Just as her speed, she claims to have once been rather strong. Now, if it takes opening a can or a soda pop, she's there in a heartbeat, and also trains herself determinedly with large weights in her backpacks, jogging around ith that or lifting it. However, in weight training or traditional lifting situations, she's rather useless.
Swimming: A rare gift, Jack is a naturally talented swimmer, able to tread water with weights for over two hours without complaint, able to keep treading without weight for longer than that, and reasonably fast when it comes to distance relays. However, she has recently shown a dislike to aqua pura.
Computers: Jack is fairly competent with the more technical aspects of computers, but is still rather new to the digital artwork realm.
Driving: Jack is still working on her license.
Appearance
Edit
Fur/Scale/Feather Colour: Bright orange, with dark grey accents covering the top of her face, her ears, hands, and feet, and the rings on her tail
Skin Colour (ie Muzzle/Arms/Beak): She has a shock of white at the muzzle and in the front portion of her ears.
Eye Colour: Dark Forest Green
Hair/Quill/Feather Style: Jack has several styles, but most frequently pushes her long fringe out of her eyes with a black headband, and lets her long hair hang free on her shoulders unless she's drawing, when it's swept back into a ponytail
Nose: Trapezoidial and flattened
Ears: Smaller and pierced
Tail: Almost as big as she is, normally rather well-groomed, and ringed orange and dark grey.
Other Bodily Features: ENTER
Any Piercings/Tattoos/Scars/Birthmarks?: She has a pair of silver or gold hoops that she will wear occasionally, but otherwise, nothing.
Attire: Jack is one of those characters that prefers to be fully-clothed, usually wearing a nondescript t-shirt, some form of a vest, jeans or sweat pants (usually with a tear at the knee), and black running shoes or military boots. She wears dark grey fingerless gloves. In flashbacks, she is seen with bare hands or white full gloves, and either in a loose dress, or a tight Dark Legion uniform).
Items/Weapons: Always has a pen and a screwdriver on her. Don't ask.
Transportation: Jack walks everywhere, despite trying desperately for a license; she's actually scared of driving, and driving with Cecil hasn't helped matters.
Affiliations/Relations
Edit
Dark Lord Mephiles - Her mentor and friend; the two, however, started off on the wrong foot due to her fear of accepting what she was supposed to scorn
C.I.Sane - One of her very good (best) friends
Jet the Panuki - Has a strong friendship that developed slowly due to her shyness
Laz - Struck it off with him, and has often loaned clothing to him
Rivals/Enemies
Edit
"Black Jack" - The Anti-Jack, she's a real beeyotch.
INSERT YOUR CHARACTER HISTORY HERE. THERE IS NO LIMIT ON HOW LONG OR SHORT YOUR HISTORY SHOULD BE.
PLEASE DO NOT COPY FROM WIKIPEDIA OR ANOTHER WIKIA. ITS BETTER TO LEAVE IT BLANK THEN COPY FROM SOMEONE ELSE.
INCLUDE THE CHARACTER'S ORIGIN AND ANY PRE-HISTORY BEFORE THE RP. MORE CAN BE ADDED LATER TO REFLECT THE ONGOING
EVENTS IN THE RP.
Comic Appearances
Edit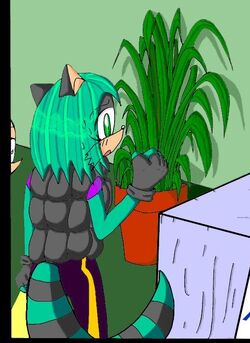 Jack was, for a while, green/teal coloured. While originally orange, she made a brief switch when her creator/player auditioned for the webcomic 'Not for Resale', as the other main character, RedFox, was also orange, and she felt that the colour scheme would be too competitive. Here is one of the two green appearances that she had.
Jack has been around before her first official appearance, back in 2009. The character was stewing up in one form or another since at least 2007.
Jack has a malicious sense of practical joking; but you'll never find her playing them, as she's always the victim. XD;;;
Out of the many characters that Jack has played and written for, the one she feels she best likes and identifies with is Asura-Ista, despite being best known for Enerjak and Turbo.